CUZCO, Peru — The smile on Francisca Qquerar Mayta's face never let up as she moved through Peru's Sacred Valley from one community project site to the next in the days leading up to G Adventures' inaugural GX Summit.
From the time she greeted a group of journalists at the Ccaccaccollo Women's Weaving Co-Op and Parwa Community Restaurant in Huchuy Qosqo to when she appeared with other women from her community at the summit here, the look on her face remained one of pride.
Not only had she secured a livelihood for herself as a leader of the weaving co-op, ensuring her Incan heritage would live on and thrive as a tourism business for years to come, but Qquerar Mayta had helped create a stable economic future in tourism for her entire community in Huchuy Qosqo. Especially for its women.
"She's very happy because, thanks to G Adventures and [its philanthropic arm, Planeterra], nowadays the community is way different than how the community was" in the early 2000s, said Edwar Pachecho, a G Adventures tour guide who translated Qquerar Mayta's heartfelt address from Quechuan for journalists visiting the co-op ahead of GX.
The media group was touring Peru with G Adventures to see the impact of community tourism has had in parts of the Sacred Valley that were often ignored by travelers on their way to Machu Picchu.
"This area was just driven through by hundreds of thousands of travelers every year going to Machu Picchu, and there was no benefit to this community at all," said G Adventures chairman Bruce Poon Tip. "There was a kind of resentment — that 'tourism is here, but we're not part of the value chain.'"
The GX Summit was created to celebrate community tourism, which Poon Tip defines as tourism that benefits travelers, suppliers and locals through a shared sense of responsibility and initiatives, such as promoting poverty alleviation.
And the Sept. 27 summit was timely — it was held on World Tourism Day, a U.N.-designated day to raise awareness about the role tourism plays in communities worldwide.
According to several local tourism workers here, for years women were not directly benefiting from Sacred Valley tourism. Men were hired as porters and guides and provided horses and donkeys to carry travelers' bags up the Inca Trail, much of it on roads connecting one town to the next. Money earned in the valley back in the 2000s rarely ever reached the hands of women.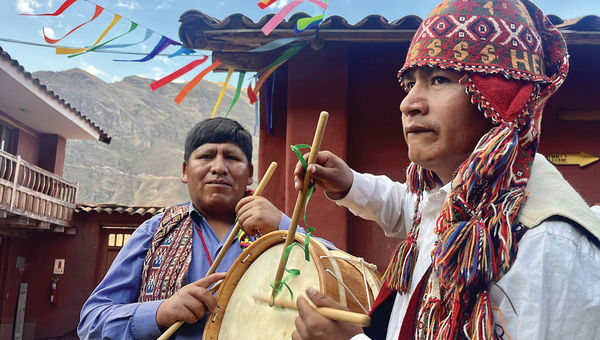 Peruvian men play music on traditional Andean instruments at the G Adventures-supported Parwa Community Restaurant. Photo Credit: Nicole Edenedo
"Women just worked at home, carrying the babies, being housewives," said Helga Benito, manager of Parwa Community Restaurant. "It's traditional that the husbands are the first to support the family."
Poon Tip said his own company was once part of the problem in fueling that inequity and the ensuing resentment women felt when travel companies would only hire men.
"We were responsible for a lot of their young generation leaving [their communities] and moving to the cities to work in restaurants, bars and retail, because that's where we were bringing people," Poon Tip said. "That's when Francisca came to us."
Today, 18 years after Qquerar Mayta and the women of Ccaccaccollo first partnered with G Adventures to form a weaving co-op for tourism, similar community tourism projects backed by G Adventures have sprouted throughout the Sacred Valley.
Projects include Parwa Community Restaurant — which opened in 2014 and sees an average of 1,500 travelers a month, employs more than 15 locals and supports more than 90 community members and entrepreneurs — and Parque de la Papa, an organization of five farming communities that work together to preserve the 1,300 varieties of potatoes grown in the Sacred Valley highlands and supply produce to Parwa while sharing their farming traditions with travelers visiting the property.
"We started to offer something that no other company did, and now everyone comes to the Sacred Valley because of what we started here," Poon Tip said. "This is the story of community tourism, and this is what we're trying to promote. Community tourism is about everyone being part of the value chain."
Source : Travel Weekly