Three wins by Peru and two each by Chile, Colombia and Dominican Republic highlighted the first few days of athletics at the 19th Pan American Games, held for the first time in Chile.
In the most successful campaign for Peruvian athletics at this quadrennial multisport event, the 2019 Games hosts got off to a good start as Cristhian Simeon Pacheco became the first man to successfully defend his marathon title.
Pacheco, who ran a Peruvian record at the 2019 edition, covered the second half more than four minutes faster than the first to claim gold in 2:11:14, 53 seconds ahead of Hugo Edgardo Catrileo, who won Chile's first ever medal in the men's marathon at the Games.
Pacheco's compatriot, the defending champion Gladys Tejeda, finished third in the women's marathon in 2:30:39, behind Mexico's winner Citlali Moscote (2:27:12) and Argentina's Florencia Borelli (2:27:29). They all dipped under the previous Games record set by Tejeda in Lima in 2019.
When action resumed a week later, 2022 world champion Kimberly Garcia added Pan American Games gold to her pedigree in the women's 20km race walk, finishing one place better than her performance in 2019. Garcia won after a close battle with area record-holder Glenda Morejon of Ecuador on a course that was later found to be short.
Ecuador's David Hurtado won the men's 20km race walk in (1:19:20). Brazil's two-time world bronze medallist Caio Bonfim (1:19:24) and Mexico's Andres Eduardo Olivas (1:19:56) completed the podium, all finishing inside the previous Games record.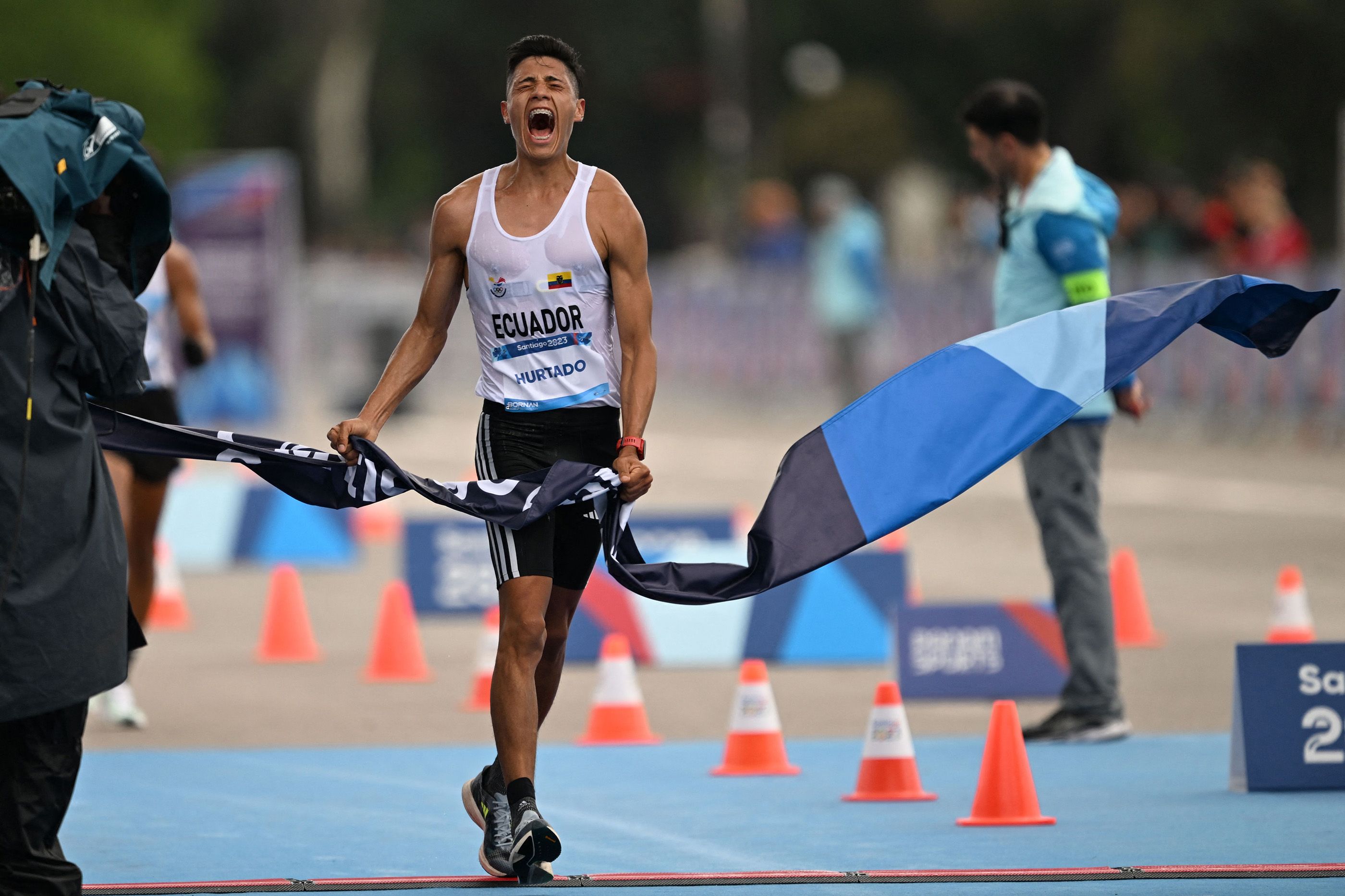 David Hurtado wins the men's 20km race walk at the Pan American Games (© AFP / Getty Images)
As action moved to the National Stadium on Monday (30), Luz Mery Rojas produced another historic performance in the 10,000m as she became the first Peruvian athlete – woman or man – to win a track gold in the history of the Pan American Games.
With experience from the 2023 World Championships final under her belt, the 30-year-old moved away from the lead pack with six laps remaining. She kept the chasers at bay and pumped her arms to the air as she crossed the finish line in 33:12.99, winning ahead of Mexico's world 5000m finalist Laura Galvan (33:15.85) and USA's Ednah Kurgat (33:16.61).
Hosts Chile are enjoying their best performances in Pan American Games history. Lucas Nervi threw a season's best of 63.39m in the third round to claim the men's discus title ahead of Colombia's South American record-holder Mauricio Ortega (61.86m) and Jamaica's two-time defending champion and 2019 world silver medallist Fedrick Dacres (61.25m).
The momentum continued a day later, on Tuesday (31), when Santiago Ford delighted the home 30,000-plus crowd with the decathlon gold. Second after day one, the South American Championships silver medallist improved his discus best by almost two-and-a-half metres. A solid javelin performance cemented his lead, and he kept his closest rivals – Brazil's South American champion Fernando Ferreira and USA's Ryan Talbot – within close distance in the 1500m to become the second Chilean after 1951 champion Hernan Figueroa to win the coveted continental decathlon. His final score was 7834 points.
After a busy season, world 400m champion Marileidy Paulino closed strong to confirm the Dominican Republic as inaugural winners of the mixed 4x400m at the Pan American Games. Running the anchor leg, she was preceded by Ezequiel Suarez, her fellow Olympic relay silver medallist and training partner Anabel Medina, and Robert King.
Paulino will return to the track on Wednesday to contest the 200m.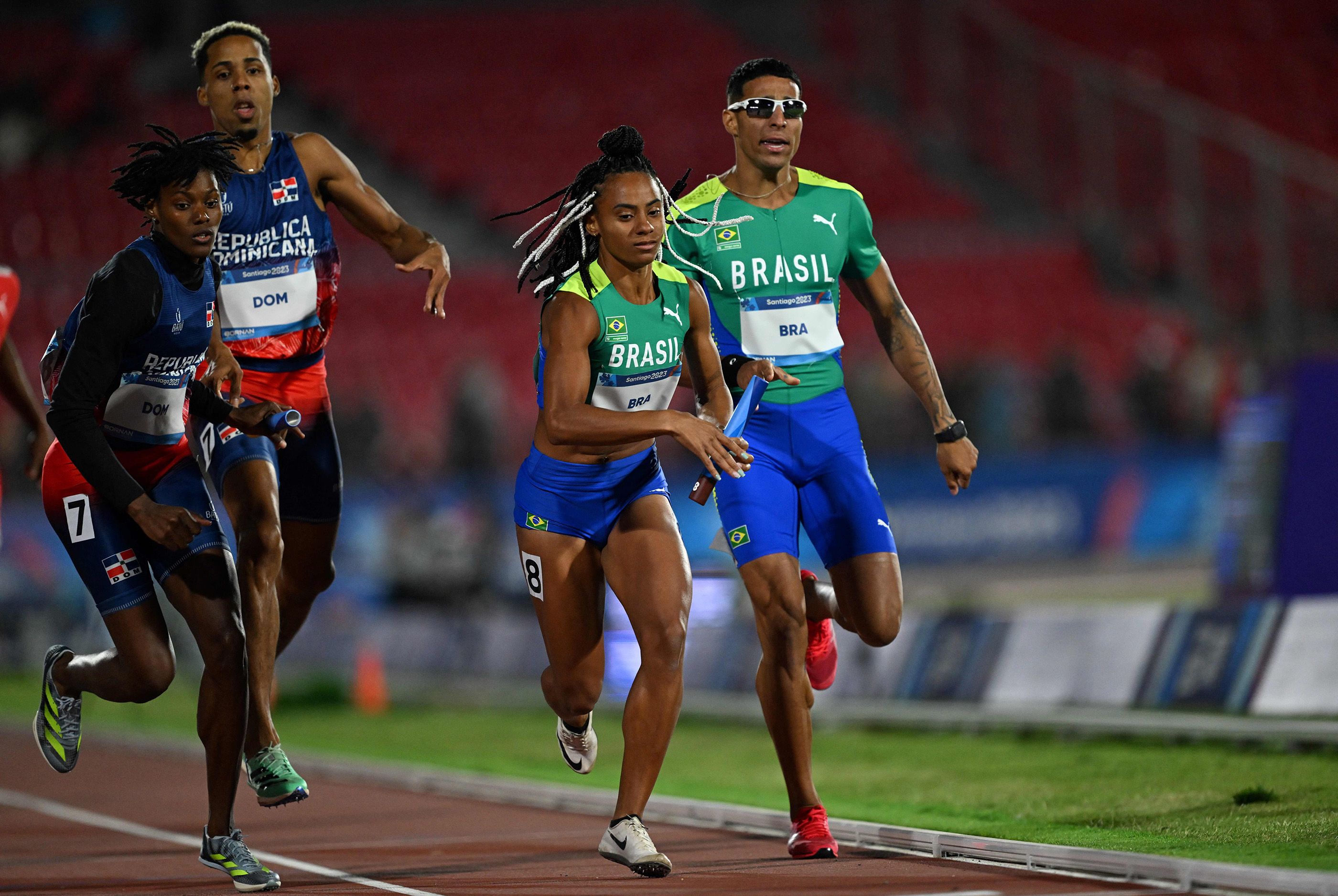 Dominican Republic, anchored by Marileidy Paulino, and Brazil compete in the mixed 4x400m (© AFP / Getty Images)
A second gold for the Caribbean nation came a day later in the men's 100m, as Jose Alnardo Gonzalez became his country's first champion in the discipline at the Games. The 28-year old national record-holder finished strong in lane six to run 10.30 and deny Brazil's national record-holder Felipe Bardi and Guyana's Emanuel Archibald, both timed at 10.31.
In a wide-open women's 100m final, national record-holder Yunisleydis De La Caridad Garcia moved away from the field at the halfway point to become Cuba's second woman to win the continental gold and the first in 20 years. She clocked 11.36, finishing comfortably ahead of Guyana's Jasmine Abrams (11.52) and Trinidad and Tobago's Michelle-Lee Ahye (11.53).
Archibald and Abrams won Guyana's first medals at the 2023 Games across all sports, their country's first athletics medals in 20 years and the fourth and fifth in the history of the Games.
Colombia dominated both long jump contests, with world U20 silver medallist Natalia Linares (6.66m) and two-time South American champion Arnovis Dalmero (8.08m) gaining the honours.
In her third Pan American Games, Brazil's 37-year-old Eliane Martins finally collected a medal with an opening 6.49m, her only valid jump of the competition. In the men's event, the Cuban duo of Alejandro Parada and Maikel Vidal joined Dalmero on the podium with 8.01m to deny Uruguay's Emiliano Lasa (8.00m) a third consecutive Pan Am medal after his bronze in Toronto in 2015 and Lima in 2019.
Izabela Rodriguez threw 59.63m to win the women's discus in a Brazilian 1-2 ahead of her compatriot Andressa De Morais (59.29m).
Athletics action in Santiago de Chile continues until 4 November. Canada's Ethan Katzberg is among the athletes still set to compete as the world champion takes on Chile's defending champion Gabriel Kehr. The marathon race walk mixed relay, a new Olympic discipline, will make its Games debut on the final day.
Source : World Athletics