Water surplus has opened up short-term opportunities for a struggling community in the Cordillera Blanca – but what happens when it runs out?
Fresh Andean water flows abundantly in Hualcayán, a picturesque hilltop settlement studded with archaeological gems in the Cordillera Blanca mountain range in Peru.
A network of artificial stone canals channel those glacial waters to the community's vast expanse of farmlands, feeding into fields of ruby-red strawberries, succulent sugar-snap peas, and the ever-growing number of reservoirs that dot the land.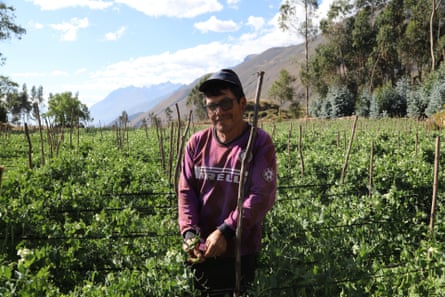 "It's easy work," says Hugo Adriano Echeverria Paulino, a 48-year-old farmer who cultivates sugar-snap peas on seven hectares (17 acres) of land amid a breathtaking scene of snow-capped mountains and soaring valleys. "But it requires a lot of water."
A decade ago, Hualcayán looked very different in the world's most densely concentrated cluster of tropical glaciers. Before, modest fields of corn, wheat and potatoes – crops cultivated here for centuries – covered the landscape. But now, nearly all of them have been turned into ordered monocultures of sugar-snap peas.
The Cordillera Blanca, which extends for more than 100 miles and includes several Andean peaks that are more than 6,000 metres above sea level, is considered a "ground zero" of climate breakdown as communities within it contend with a fearsome range of threats, from unprecedented, chaotic weather to surges in crop-destroying pests, blows to tourism reliant on fast-disappearing glaciers, and escalating conflicts over water.
Peru has lost more than half of its glaciers as a result of melting over the past 50 years, according to research by the National Water Authority, and it is projected that all of the snow on the top of the mountain range could disappear by 2111.
The sight of scarred, black rockfaces on the towering peaks surrounding Hualcayán has become increasingly common, according to Paulino, and is a stark reminder of where the mountain range's fast-melting glaciers used to be.
"When I used to go on walks through the mountains as a child, they were completely covered in snow," says Paulino. "Not any more."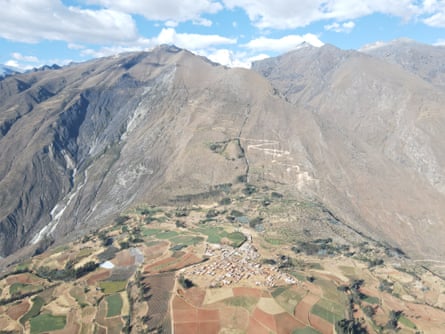 In Hualcayán, the impact of climate breakdown has also taken on a complex new dynamic. As glaciers in the Cordillera Blanca have melted over the years, the lakes below them have swelled with the resulting water. In some areas, it has heightened the risk of outbursts with deadly consequences, but in Hualcayán, the unusual surplus of water – a stark contrast to the bitter drought faced by other Andean communities and regions across Peru – has allowed local farmers to benefit in some ways.
About a decade ago, the Belgium-based company Fair Fruit offered to make a deal with the residents of Hualcayán, including Paulino. It would pay the farmers to grow sugar-snap peas for international export, initially offering to pay 5 soles (£1) a kilo. Later, according to farmers, Fair Fruit increased the price paid to 7 or 8 soles a kilo.
Many like Paulino were quick to sign up, eager to establish a guaranteed income stream amid the volatile market for potatoes and corn, which have become more challenging to cultivate because of hotter conditions.
"There aren't other job opportunities for us here, so the whole community wanted to start working with the company," says Lucia Huaman Perez, a 52-year-old farmer with three hectares of land in Hualcayán. "We don't have a choice."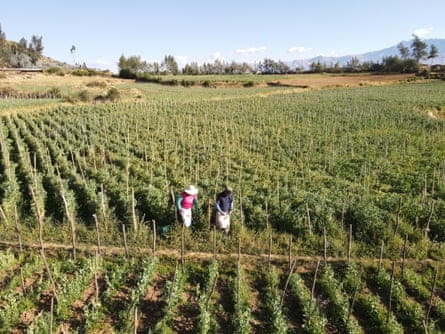 Sugar-snap pea plots with distinctive rows of eucalyptus branches now dominate Hualcayán. Much of the community has benefited as the farmland has sprawled, and more reservoirs have been built to stockpile water to meet international demand.
Leoncio Huiza Cerillo, a 77-year-old farmer and former president of the community, says the cost of cultivating the sugar-snap peas, which require daily picking and irrigation every three days, is as much as 80-90% of the payment he receives. Still, it's the best alternative he has found.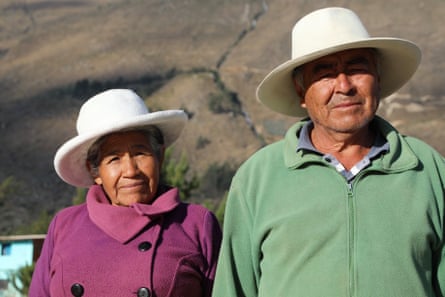 "It's expensive to produce," says Cerillo, who estimates that more than half of what he produces goes to international markets. "But we need to work to earn money, pay for our kids to go to school and for medical treatment."
Yet, while this rare boom in water supply has brought short-term benefits, boosting incomes in the poor rural community, the developments in Hualcayán symbolise the paradoxical impact of the climate crisis across the region, creating a tension between short-term gain for those wanting to improve their meagre livelihoods and potential long-term catastrophe. The Guardian contacted Fair Fruit and its parent company on three occasions but received no comment.
Across the Cordillera Blanca, international and domestic companies are exploiting increased water flows by building hydroelectric dams that divert water away from community lands and by funding the cultivation of water-intensive, non-native crops such as sugar-snap peas, strawberries and blueberries as well as flowers to export internationally.
Conflicts have broken out over water in the past. The nearby Cruz de Mayo community has for years organised protests over the Cañón del Pato hydroelectric plant. The site, previously run by the American company Duke Energy, draws water from the community's water source, Laguna Parón, a glacial lake and popular tourist destination at an altitude of more than 4,000 metres.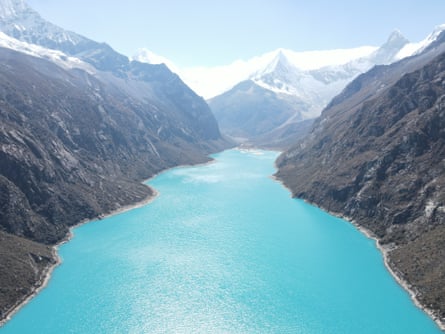 Some residents fear that the rush of agribusiness is unsustainable and could amplify the crisis if the water does dry up. "I'm afraid for the future," says Paulino. "We will all be without a way to feed ourselves."
The struggle over water in the Cordillera Blanca represents an unprecedented threat because its glaciated mountain peaks form one of the world's "water towers" – a mountain system that supplies a significant amount of water to a large population.
"I've been staggered to see how horticulture has expanded in the Cordillera Blanca," says Nicholas Branch, a professor at the University of Reading who specialises in climate resilience and food production in the Andes. "These rural populations have dealt with changes for millennia. But these types of [new] crops require a lot of water. It's a whole new challenge."
Branch, who has researched the Cordillera Blanca and the neighbouring Cordillera Negra, which does not contain glaciers and whose communities have been suffering significant droughts, warns that lessons must be heeded.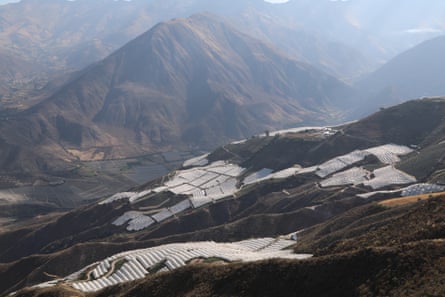 "In the future, the Blanca will experience droughts already acutely felt in the Negra," he adds. "But we are seeing very little large-scale effort in terms of adaptation."
"It's very concerning; it's short-term thinking," says Vidal Rondán, the strategic planning director at the Mountain Institute, a not-for-profit organisation that works with communities in the Andes. "The community was having its water supply cut off. As the water runs out, farming areas will be abandoned, and people will move to other areas, ignoring the agreed land rights and doing whatever they can to survive."
According to Rebecca Bria, an assistant professor at the University of Texas at San Antonio, those changes are "creating dependencies between people, land and water that can't be sustained long-term" as the glaciers providing the water are vanishing.
Last year Bria, an anthropologist who has worked with the community in Hualcayán since 2009, surveyed 80 residents about their experience of the climate crisis and their ability to adapt to the more extreme, unpredictable conditions. "They are very aware of climate change," Bria says. "Many feel hopeless."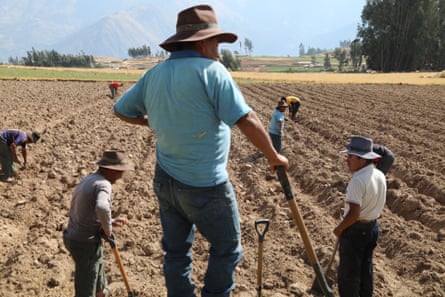 Even in the Cordillera Blanca, not all communities have access to plentiful water stocks as they do in Hualcayán. About a dozen miles to the south, the farmers in Tzactza can only irrigate their fields with lake water once a month under historical rights negotiated by villages. Owing to its geographical location, Tzactza doesn't have access to other natural water sources, such as rivers, yet the farmers are still suffering the ill effects of climate breakdown, with unpredictable, unseasonal rains.
"It's a critical situation," says Federico Chavez Salvador, the president of Tzactza's water committee, which was set up in response to the dire situation. His team attempts to improve water network infrastructure to reduce erosion and evaporation.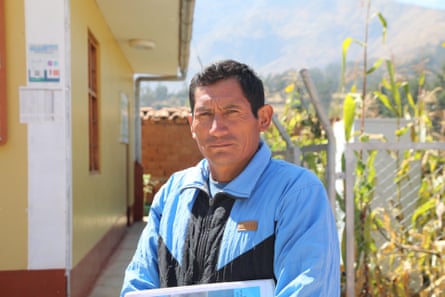 "Industrial cultivation of strawberries and sugar-snap peas means our predicament is worse than ever," Salvador adds.
On the outskirts of Tzactza, where parched fields and bone-dry water channels loom large on the landscape, the grim realities of those water shortages are being endured by some of the world's poorest but most essential food producers. Juan Salvador Cruz, a 77-year-old farmer working with his son under the beating midday heat, is attempting to irrigate a field of potatoes using only buckets of water collected by hand from a small, murky brown pool.
"There's no water, no water," he says.
Source : The Guardian